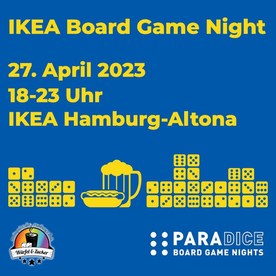 IKEA Board Game Night
On Thursday evening, around 300 visitors were able to try out board games at 60 tables at Ikea's first German Boardgame Night. The event was a great success and we hope that many more IKEA Boardgame Nights will follow. Anyway, we had a lot of fun!
There are still some more tickest!
From 14.04. to 16.04. we have been on the event Auf der Spur des FEZi-RAPTURUS.
We had a lot of fun there and we looked in many schining eyes. We will come back!
From 28. to 30. October we have been on POLARIS in Hamburg
Some impressions from POLARIS.
Many thanks to Dennis from DICED for the organization.

We have been on SPIEL '22
Klemens Franz designed our Logo. We met him at SPIEL.

Back from Berlin Con with a few impressions
This year we organized and implemented the game rental.
We had a lot of fun. We hope you too!